We're excited to present the MINENFELD + REPULSIVE FEAST "Scourging The Sick" European tour!
MINENFELD were raised from the Osnabrück bunker depths in 2016 and continues in playing merciless and raw Death Metal with a clearly antifascist attitude.
REPULSIVE FEAST from Wolfsburg are leaving listeners ears bleeding from disgust with their grinding madness that reeks of death's breath since 2017.
A split-7″ with exclusive tracks from both of these German bands will be released by Lycanthropic Chants in November 2022. But it will be physically available in an exclusive version on this tour!
14th Oct – GER, Wolfsburg @ Sauna-Klub (Facebook)
15th Oct – GER, Leipzig @ Stö (Facebook)
16th Oct – CZE, Brno @ Kabinet Múz (Facebook)
17th Oct – AUT, Graz @ Klub Wakuum (Facebook)
18th Oct – GER, Villingen-Schwenningen @ JH Spektrum (Facebook)
19th Oct – FRA, Belfort @ Secret place
20th Oct – GER, Mannheim @ JUZ Friedrich Dürr (Facebook)
21st Oct – BEL, Antwerp @ Music City (Facebook)
22nd Oct – GER, Emsdetten @ JUZ 13drei (Facebook)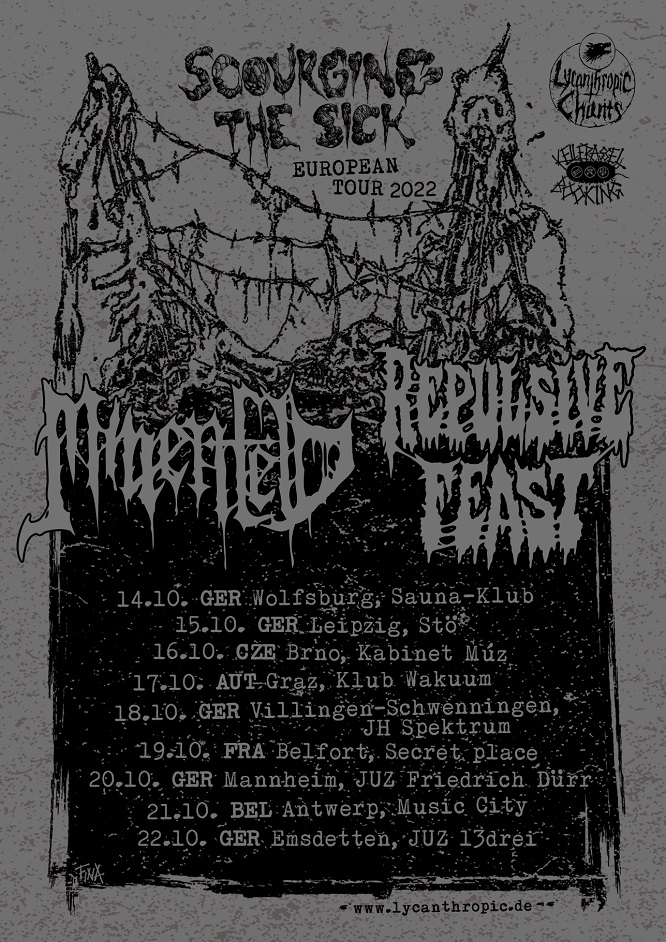 MINENFELD
Website
Bandcamp
Metal-Archives
REPULSIVE FEAST
Website
Facebook
Instagram
Metal-Archives